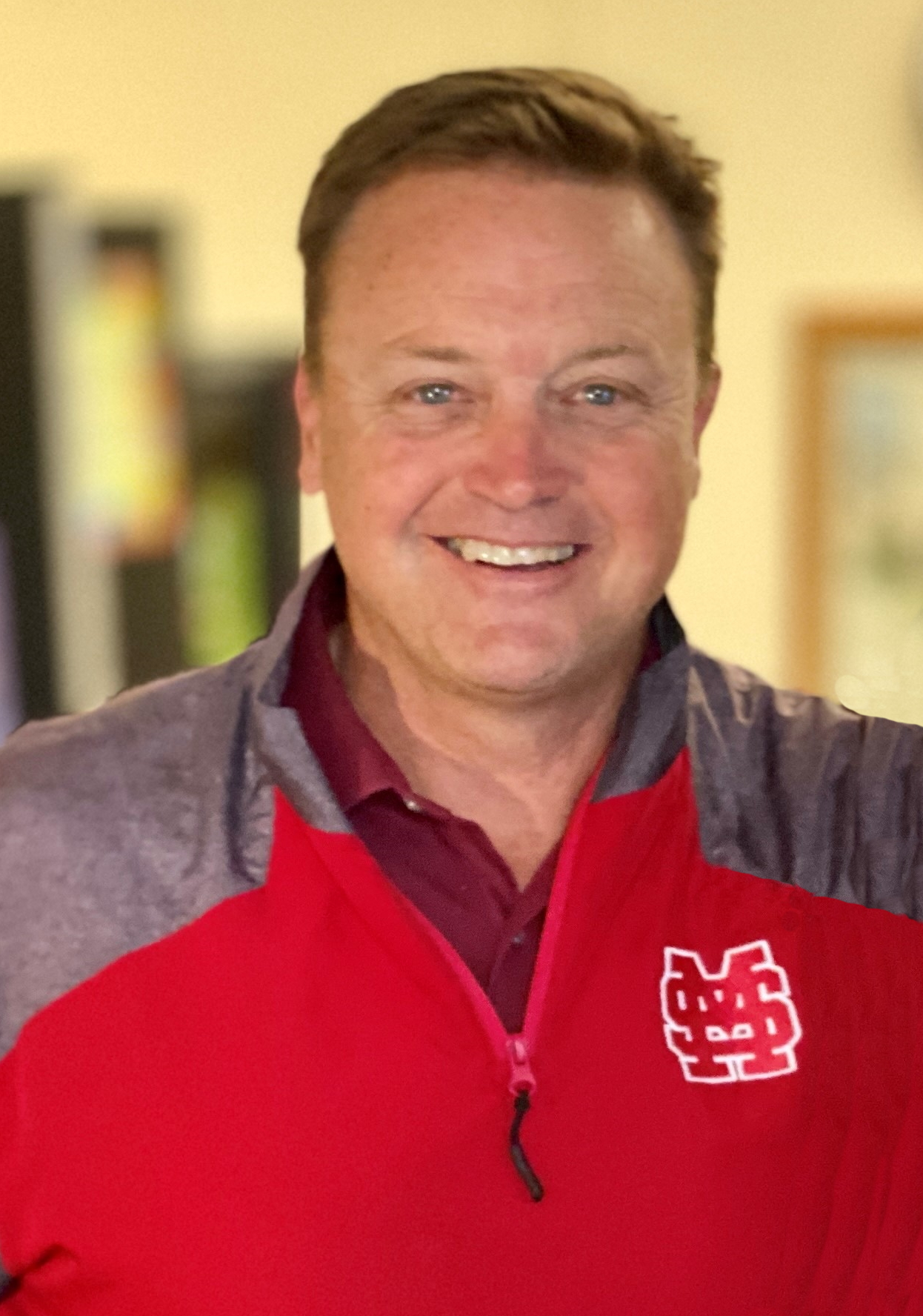 Steve Campbell, Principal
(805) 925-2567 ext. 3701
scampbell@smjuhsd.org
School Hours

Start Time:
8:00 AM

Dismissal Time:
4:30 PM

Main Telephone Line:
(805) 925-2567
Dear Students, Parents, and Community,
On behalf of the entire SMHS staff, welcome to the beginning of the 2022-23 school year. As most of you know, Santa Maria High School is the "Home of the Saints" and has long served as a source of pride to our community. SMHS has an incredible staff devoted to preparing all of our students for a successful life after high school. We are excited to begin the 130th school year at this historic site and are looking forward to all the activities and opportunities we have planned for our students.
Academically, our school data indicates a positive trajectory for SMHS including a graduation rate above the state average, an A-G completion rate consistently on the rise, an English Learner reclassification rate at an all-time high, and the highest number of students accepted to a California University in all of Santa Barbara County.
Our facilities are also improving as work continues on our expansive construction project including a new, state-of-the-art, fifty-classroom building. When completed in the fall of 2023, SMHS will have one of the most efficient, effective, and beautiful campuses in the area.

Santa Maria High School also continues to offer a multitude of extra-curricular activities including athletics, visual and performing arts, vocational education, and a robust list of clubs and community service opportunities. We encourage all of our students to take advantage of what SMHS has to offer.

With facilities improving and academic indicators all on the rise there is a positive momentum at SMHS that is enjoyed by students, staff, and parents. SMHS is going in the right direction and is set to take another significant step forward this year. For more information about SMHS please browse our website at www.santamariahighschool.org. I look forward to working with all of you, get ready for a great year, and "Go Saints"!

Sincerely,
Steve Campbell
(SMHS principal)
Estimados estudiantes, padres y comunidad,
En nombre de todo el personal de SMHS, bienvenidos al comienzo del año escolar 2022-23. Como la mayoría de ustedes saben, Santa Maria High School es el "Hogar de los Saints" y ha sido durante mucho tiempo una fuente de orgullo para nuestra comunidad. SMHS tiene un personal increíble dedicado a preparar a todos nuestros estudiantes para una vida exitosa después de la preparatoria. Estamos emocionados de comenzar el año escolar número 130 en este sitio histórico y esperamos todas las actividades y oportunidades que hemos planeado para nuestros estudiantes.
Académicamente, los datos de nuestra escuela indican una trayectoria positiva para SMHS que incluye una tasa de graduación por encima del promedio estatal, una tasa de finalización de requisitos A-G en constante aumento, una tasa de reclasificación de aprendices de inglés en su punto más alto y la mayor cantidad de estudiantes aceptados en una Universidad de California en todo el condado de Santa Bárbara.
Nuestras instalaciones también están mejorando a medida que continúa el trabajo de nuestro amplio proyecto de construcción que incluye un edificio nuevo y de última generación con cincuenta salones de clase. Cuando se complete en el otoño de 2023, SMHS tendrá uno de los campus más eficientes, efectivos y hermosos del área.
Santa Maria High School también continúa ofreciendo una multitud de actividades extracurriculares que incluyen atletismo, artes visuales y escénicas, educación vocacional y una sólida lista de clubes y oportunidades de servicio comunitario. Alentamos a todos nuestros estudiantes a aprovechar todo lo que ofrece SMHS.
Con las instalaciones mejorando y los indicadores académicos en aumento, existe un impulso positivo en SMHS que disfrutan los estudiantes, el personal y los padres. SMHS va en la dirección correcta y está listo para dar otro paso importante este año. Para obtener más información sobre SMHS, visite nuestro sitio web en www.santamariahighschool.org. ¡Espero trabajar con todos ustedes, prepárense para un gran año y vamos Saints!
Atentamente,
Steve Campbell
Director de Santa Maria High School
We highly encourage parents to get involved in their student's school. Below are programs and committees parents may join:

English Language Advisory Committee (ELAC): ELAC is comprised of parents of Limited-English Proficient (LEP) students. Any parent is welcome to become a member of the ELAC committee. The committee examines issues surrounding bilingual education, including needs assessment for LEP students. For more information, please call 805-925-2567, ext. 3706.

School Site Council (SSC): The School Site Council develops and evaluates our yearly learning goals as outlined in our School Plan. The SSC is formed by parents, students, community members, and school personnel. Members of this council are elected by their peers and serve for a two-year term. Elections for new members are held each year, as one half of our members rotate. Meetings are held monthly and are open to the public. For more information, call 805-925-2567, ext. 3702.

Shared Decision Making (SDM): The purpose of Shared Decision Making is to provide an opportunity for the school community (teachers, parents, students, and other site employees), in collaboration with the principal, to jointly shape decisions regarding policy making and organizational issues related to student, teachers, and/or classrooms at the school site level. For more information, call 805-925-2567, ext. 3704.

Un Cafecito Meeting (Coffee with the Principal): This is a quarterly meeting with SMHS parents to discuss and address school policies, activities and campaigns, address parent concerns/issues, disseminate school information, and request for school community feedback. These meetings will be announced by an all-call notification. For more information, call 805-925-2567, ext. 3566 or 3202.

Volunteers Are Welcome!
Parent volunteers are always needed and welcomed. However, before a volunteer can provide services to our school, a Parent Volunteer form must be filled out and approved by the principal and district personnel. Parent Volunteer forms may be obtained in the Principal's Office.
Recomendamos encarecidamente a los padres que se involucren en la escuela de sus hijos. A continuación se encuentran los programas y comités a los que los padres pueden unirse:
Comité Asesor del Idioma Inglés (ELAC): ELAC está compuesto por padres de estudios con dominio limitado del inglés (LEP). Cualquier padre puede convertirse en miembro del comité de ELAC. El comité examina las relaciones con la educación bilingüe, incluida la evaluación de las necesidades de los estudiantes LEP. Para obtener más información, llame al 805-925-2567, ext. 3706.

Consejo de sitio escolar (SSC): El consejo de sitio escolar desenrolla y evaluación de nuestras metas de aprendizaje anuales como se describe en nuestro plan escolar. El SSC está formado por padres, estudiantes, miembros de la comunidad y escolar personal. Los miembros de este consejo son elegidos por sus padres y señor por un período de dos años. Las elecciones para nuevos miembros se llevan a cabo aquí, ya que la mitad de nuestros miembros rotan. Las reuniones se levan a cabo mensualmente y están abiertas al público. Para obtener más información, llame al 805-925-2567, ext. 3702.

Toma de decisiones compartidas (SDM): El proyecto de la toma de decisiones compartidas es brindar una oportunidad para que la comunidad escolar (maestros, padres, estudios y otros emplazados del sitio), en colaboración con el director, formen conjuntamente decisiones relacionadas con la formulación de políticas. asuntos relacionados con los estudiantes, maestros y / o salones de clases a nivel del plantel escolar. Para obtener más información, llame al 805-925-2567, ext. 3704.

Reunión Un Cafecito (Café con el director): Esta es una reunión trimestral con los padres de SMHS para discutir y abordar las políticas, actividades y campañas de la escuela, abordar las preocupaciones / problemas de los padres, difundir información escolar y solicitar comentarios de la comunidad escolar. Estas reuniones se anuncian mediante una notificación de llamada general. Para obtener más información, llame al 805-925-2567, ext. 3566 o 3202.

¡Los voluntarios son bienvenidos!!
Los padres voluntarios siempre son necesarios y bienvenidos. Sin embargo, antes de que un voluntario pueda Brindar servicios a nuestra escuela, el director y el personal del distrito deben completar y aplicar un formulario de Padre Voluntario. Los formularios para padres voluntarios se pueden obtener en la oficina del director.
PARENT RESOURCES & INFORMATION