901 S Broadway • Santa Maria, CA 93454
Telephone: (805) 925-2567 • Fax: (805) 922-0215
www.santamariahighschool.org
School Code: 053305

Inspiring all students to be lifelong learners who can determine their own success.
Enter to Learn, Go Forth to Serve
Our mission is to provide a quality education for all students by promoting literacy, higher-order thinking, personal accountability, and social responsibility.

Welcome to Santa Maria High School,"

Home of the "Saints." Santa Maria High School is located in the heart of Santa Maria and is dedicated to meeting the personal needs of all students. Our school has a diligent staff of caring teachers who engage all students in innovative educational practices to provide a quality educational experience. We have a population of 3,200 students for this year (2023-24), and we look
forward to serving every one of our students.
SMHS graduates have attended and graduated from colleges and universities throughout the nation, including Harvard University, USC, Brown University, the Military Academies, and all CSU and UC campuses.


Additional Programs

Un Cafecito, or Coffee with the Principal, was created for English- and Spanish-speaking parents as a forum for the delivery of school information for student achievement. Parent feedback is welcomed on school-wide issues and policies. We offer a variety of other programs to meet the varied needs of our students. These programs include AVID, FFA, FBLA, CSF, Spanish Honors Society, and other clubs and organizations. SMHS offers AP courses in English, Foreign Languages, Math, Social Sciences, and Science.

SMHS was founded in 1892 and is the second-oldest High School functioning on its original site in the state of California. It will hold its 131st Commencement on June 8, 2024. We are proud of our long history and distinguished graduates. A former Saint was the Lieutenant Governor of the State of California, Abel Maldonado. Another graduate is Mayor Alice Patino of Santa Maria, and many of our graduates have distinguished themselves in the fields of education, medicine, government, agriculture, law, and business.

Santa Maria High School is located halfway between San Francisco and Los Angeles, on the Central Coast of California, in the Santa Maria Valley. Santa Maria has a population of approximately 110,000 residents. It is a small urban community in a rural agricultural area.
Santa Maria High School is a comprehensive high school (grades 9-12) offering a complete college preparatory program in core subject areas, visual/performing arts, and international languages, as well as four career technical education departments to serve the student body. Santa Maria High School was awarded a six-year accreditation from the Western Association of Schools and Colleges in 2019.
Santa Maria High School has a robust agriculture and Future Farmers of America (FFA) program. Santa Maria FFA is the most extensive program in the state of California. During the 2020-2021 school year, the program had ten agriculture teachers who served 1,087 students. The Agriculture Department offers five agriculture pathways to its students. Each student in the agriculture program is a member of the California and National FFA Organization. This provides students with numerous opportunities to attend leadership development events and gain hands-on industry experiences. Students are able to develop leadership and entrepreneurial skills, public speaking experience, and personal growth. They are also able to raise, show, and sell livestock at our local county fair. In September of 2021, the Santa Maria High School Agriculture Education Program was voted best in the state, according to the California Agriculture Teacher's Association.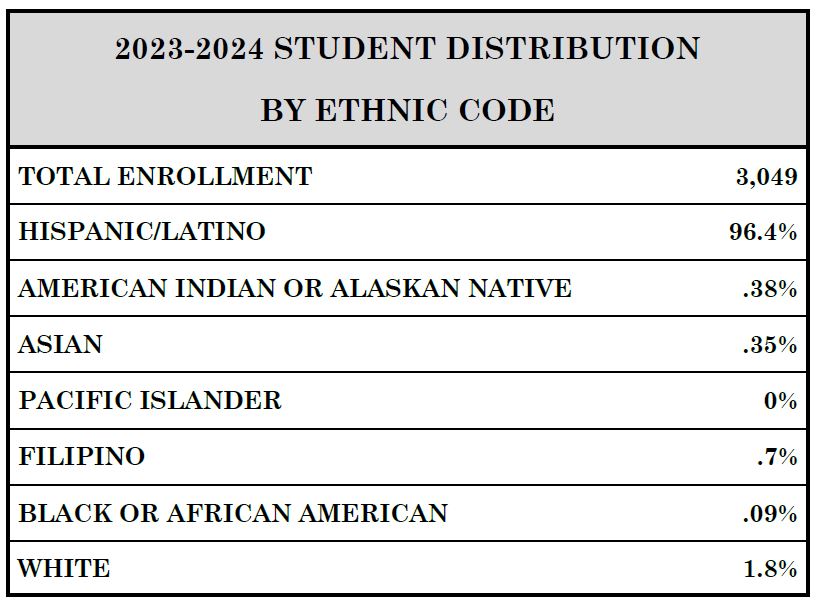 NOTE: This information will meet MINIMUM graduation requirements only. Students planning to continue to a four-year college will be required to pursue a more rigorous sequence of courses in English, Math, Science, Social Studies, Foreign Language, and arts.
ACADEMIC SCHOLAR DIPLOMA SEAL
The Board of Education encourages students to take academically challenging courses and to go beyond the minimum local and State graduation requirements. To recognize students who avail themselves of this academically enriched course of study, the Board of Education will bestow the Academic Scholar Diploma Seal to those students enrolled at the comprehensive high schools who have successfully completed the following requirements:
Achievement of a cumulative grade point average (non-weighted) of 3.5 or above from the beginning of the ninth-grade year to the end of the first semester and/or second term of their senior year.




Completion of the minimum University of California (A-G) requirements for college admission.

Completion of 230 or more credits.
Santa Maria High School is home to over 3,000 students, 172 credentialed faculty, and 97 classified support staff. Over 86% of students are socioeconomically disadvantaged, 16% are experiencing homelessness, and 21.2% are English Learners.

Students are able to participate in over thirty-five clubs/organizations, seventeen sports, Advancement Via Individual Determination (AVID), Early Academic Outreach Program (EAOP), Migrant Education Program, Associated Student Body (ASB), and Link Crew.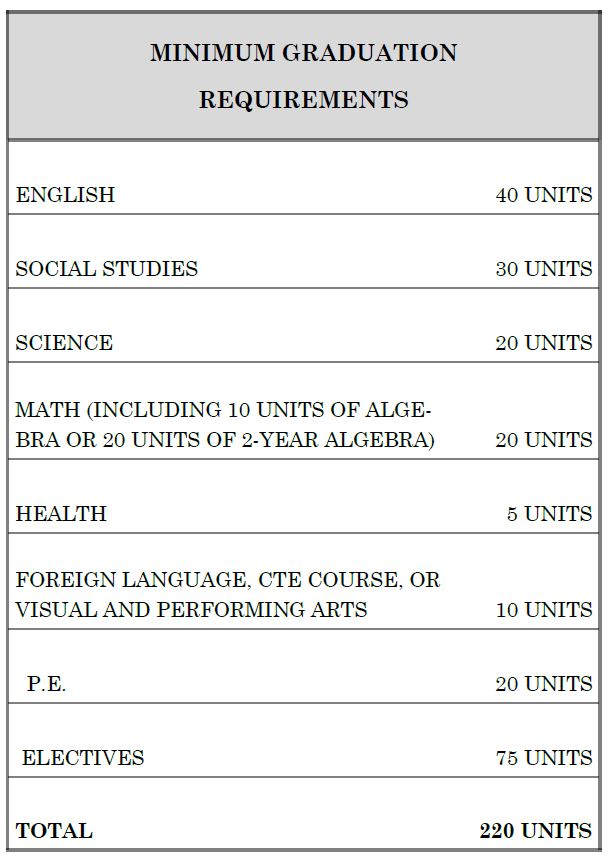 A (90% - 100%) Outstanding Achievement
B (80% - 89%) Above Average Achievement
C (70% - 79%) Average Achievement
D (60% - 69%) Below Average Achievement
F (0 – 59%) Little or No Achievement
I Incomplete* [AR5121] *If, for some extraordinary reason, a student is unable to complete a class (i.e., poor health), the student may receive an "Incomplete." The student must complete the work by the end of the first 6-weeks of the following term, or the "Incomplete" will turn into an "F" grade.
________________________________________________________________________________________________________________________________________
The GPA is the total average of grade points earned by a student. Points are assigned to each letter grade:
According to the University of California guidelines, an extra point is given for Honors (H) and Advanced Placement (AP) classes for 11th and 12th graders only. Tenth-grade students may receive the extra point if they take junior or senior Honors or AP classes, but only for calculating their high school GPA. This will not be included in the UC system GPA calculation.
•
A = 4
•
B = 3
•
C = 2
•
D = 1
•
F = 0
•
A = 5 for Honors and AP Courses
•
B = 4 for Honors and AP Courses
•
C = 3 for Honors and AP Courses
________________________________________________________________________________________________________________________________________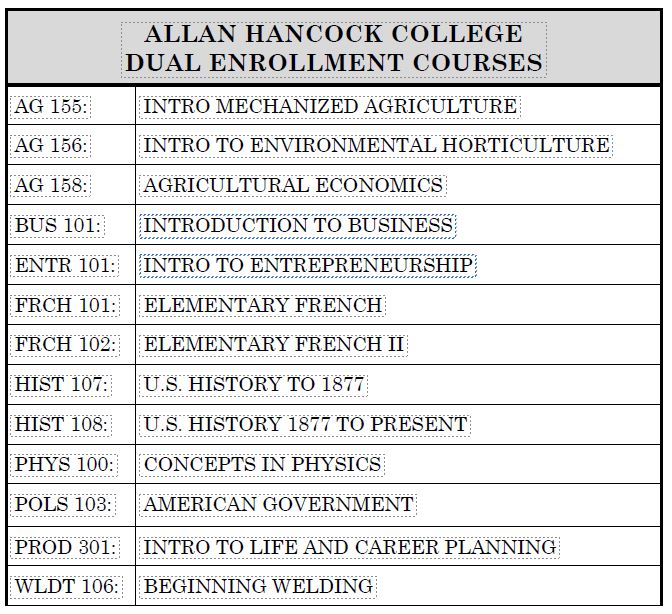 Santa Maria High School students have the opportunity to take a variety of college-level courses on the high school campus from our local community college, Allan Hancock College. Allan Hancock College is the only community college serving the Santa Maria Valley and its surrounding areas. The college credit earned is added to students' Santa Maria High School transcript, and the student is given an additional grade point if they earn a C- or above.
________________________________________________________________________________________________________________________________________